Mohawk specialises in the engineering, complete design and manufacturing of customised tooling for all the various applications found in the aerospace and automotive sectors. Our knowledge and understanding of all the various material variants found in todays engineering world, and a knowledge of the applications, allow us to provide the optimum product that will guarantee 'first time' one shot finishing of holes.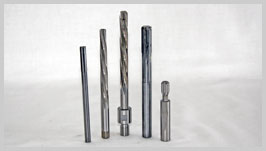 Precision Ground Reamers:
Mohawk manufacturer reamers with a diameter tolerance of 0.002mm (0.0001"), in all grades of carbide and high speed steel. Our precision reamers allow our customers to machine holes with the tightest of tolerances, and to exacting standards. Through coolant capability, eliminates and heat build up in the cavity, zero run out from spindle to lead angle, ensures excellent hole alignment.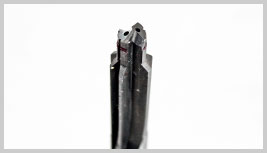 Step Drill Reamers:
Material - CFRP / AI / TI
Depths up to 50m
Most manufacturers claim their Step Drill Reamers can hold a grade 9 hole size when drilled. With unique geometry formation, Mohawk can reliably boast of grade 7 hole sizes in materials ranging from Al & Ti, to common aircraft stack ups of CFRP/Ti/Al. Machining holes sizes up to 9.525mm (0.375"), can be achieved in one shot, while still holding 0.050mm (0.002") hole tolerance. Costs savings are BIG, as we eliminate the requirement for a follow on reaming operation.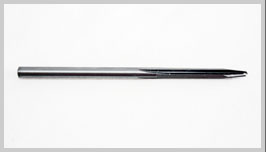 One Shot Reamer:
Material - CFRP
Mohawk maintain a stocked range of common size drill reamers, which are available off the shelf on overnight delivery. If your requirement is for an 'in between' size hole, why not let our application engineers design the size tool for you. Just tell us your hole size requirement, and your CFRP layer thickness and we will gladly design the optimum tool for you.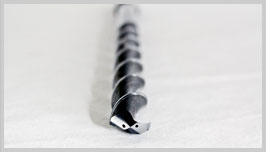 Oil Hole Drills:
Material - Various

Mohawk maufactures oil hole drills in various grades of HSS or solid carbide. In order to reduce tooling cost, or allow the use of threaded adapter shanks, why not use our carbide brazed tooling. Our expertise in this sector allows us to manufacture brazed tooling (with no run-out), allowing our customers to machine a precision hole.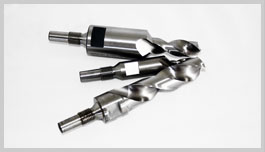 Aerospace Fastener Tooling:

No one makes Aerospance Fastener and Taperlok Tooling like Mohawk, we have a wealth of experience in this sector with dedicated personnel for every aspect of the tooling process. Guaranteed taper accuracy, with a blend radius at the countersink angle, our tools have outlasted our competitors in all tests. Just let us know what tool number your require, or what fastener you are using, and our library of all Taperlok Tooling will allow us supply you with the correct tool for your application.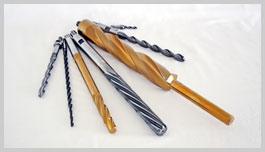 Brazed Jointed Tooling:

Whether it is for the aerospace or automotive industry, Mohawk prides itself on our jointed tooling. Highly accurate craftsmen take great pride in providing our customers with a world class product, solid carbide drills, reamers, core drills and Step Drill Reamers are common type tools, and are all available in coolant feeding construction. With a choice of shank interface, and coatings, our tools will machine any materials to any depths.